EDITORIAL: I had just watched their episode on 'Celebrity Wife Swap' and was so disturbed, I couldn't sleep Sunday night. Then I awoke to these headlines.
The mother, the so-called Queen of Versailles, says she never changed a diaper and was afraid to hold babies. These parents barely acknowledged their children's existence. This woman had 8 children who she has never cared for. There needs to be an investigation of this poor child's death. And someone needs to check on the safety of the other 7. They need someone who cares. Their parents sure don't!
These were the saddest kids I've ever seen on TV. It goes to show, no matter how much money you have, love is really what children want and need. Love your children today. Or tomorrow, they could be gone. Hopefully, these parents wake up. Their truest assets are right in front of them!
Dear Jesus, please wrap your arms around these children and show them what Your true love feels like. I pray for these parents, Dear Lord. Please let them see how You've truly blessed them with these children. Amen!
Victoria Siegel, whose parents David and Jackie Siegel were the subject of the 2012 documentary The Queen of Versailles, has died, US Weekly reports. She was 18.
According to the Orlando Sentinel, Victoria was found unresponsive in the family's "Seagull Island" mansion in Windermere, Florida just after 2 p.m. on Saturday. She was then taken to Health Central Hospital where she was pronounced dead.
Jackie Siegel confirmed her daughter's death in a Facebook post on Sunday:
"It is with great sadness that we ask you to respect our privacy during this tragic time and the loss of our beloved daughter, Victoria. Thank you all for your prayers and for your support.
As more information comes out the family will share it, until that time there is no comment.
A police spokesperson said the teen's cause of death is still being determined.
[Image via ABC]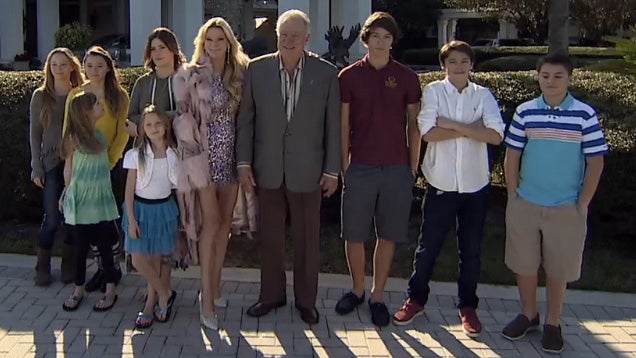 'Our house is so big you can go days without seeing some kids': Queen of Versailles' shocking admission before daughter, 18, was found dead 'weeks after returning from rehab'
The 18-year-old daughter of Jackie and David Siegel was found unresponsive at her parent's Seagull Island mansion on Saturday afternoon
Victoria was the second eldest of the couple's eight children and is reported to have died of a drug overdose 
A family spokesman confirmed on Monday that Victoria had struggled with a prescription drug addiction and had recently returned from rehab 
An autopsy has been completed, but details are not yet available
Her parents recently appeared on Celebrity Wife Swap and admitted they don't spend much time with their kids and leave that to their 30 staff
Jackie Siegel described herself as having a 'baby-phobia' and admitted that she never changed any of her own kid's diapers
The family and their extravagant lifestyle gained international attention after the release of the 2012 documentary The Queen Of Versailles 
An episode of Celebrity Wife Swap broadcast just days before the death of David and Jackie Siegel's eldest daughter has given a shocking insight into the 'no rules' environment in which the billionaire couple have raised their eight children.
Victoria Siegel, 18, was found unresponsive about 2 p.m. on Saturday at the Siegels' Seagull Island mansion on Green Island Cove, Florida, according to the Orange County Sheriff's Office.
An autopsy has been completed, but details of Victoria's death are not yet available. She is alleged to have died of a suspected drug overdose.
Victoria and David Siegel, who found fame following the 2012 documentary The Queen Of Versailles, are grieving after their eldest daughter Victoria was found dead at their mansion on Saturday
The Siegel family featured in a recent episode of ABC's Celebrity Wife Swap and 18-year-old Victoria, circled, can be seen in several scenes. She was found dead at the family's home on Saturday
A spokesman for the Siegel family confirmed on Monday that Victoria had struggled with a prescription drug addiction and had recently returned from rehab.
Family spokesman Michael Marder told ClickOrlando that Victoria – who went by Rikki to her friends and family – had seizures in her medical history and was prescribed drugs for treatment.
She had later developed an addiction and had gone into a rehab program voluntarily last month.
A source close to the family told TMZ that Victoria had a longstanding issue with prescription drugs, in particular Xanax.
A spokesman for the Orange-Osceola Medical Examiner's Office has said they are waiting the results of a toxigology report to determine the exact manner and cause of her death.
The family expect the tests will show she had perscription drugs in her system at the time of death.
The Siegels gained fame following the 2012 documentary – The Queen Of Versailles – which followed the family as they attempted to built a 90,000-square-foot mansion called Versailles House.
When the global financial crisis hit in 2008, Siegel's business was seriously impacted and the project was put on hold. Earlier this year the Siegel's revealed that they now plan to have the house completed by May 2016 – in time for David's 80th birthday.
The family also appeared on last Wednesday's episode of the ABC reality show Celebrity Wife Swap during which Jackie traded places for a week with the wife of former Party Of Five star Jeremy London, 42.