Blatant Pimp Video just released 5 days ago. 51 year old Hutchinson is passing his now 17 year old bride to his buddies in Hollywood. I'm speechless to see that America has stooped to letting underage girls be bought and pimped on national TV now. Marriage in America is now just a loophole to sex slavery with underage girls. I'll bet they are swingers, right?? This looks like a porn set. Wow, wow!!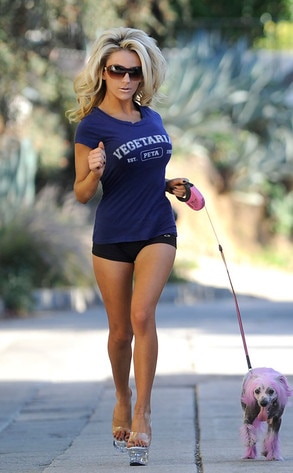 WIKIPEDIA:  Hutchison was born in Dover, Delaware, the son of Deloris and Richard Hutchison.[1] He spent most of his childhood in Detroit, Michigan and Minneapolis, Minnesota. He has a younger brother named Erik. Years later, he moved to New York City.. There, he studied with actor Sanford Meisner for two years. Hutchison made ends meet through odd-jobs, including dressing as a Citibank card while handing out fliers in Times Square.
On May 20, 2011, Hutchison married Courtney Alexis Stodden (born August 29, 1994) in Las Vegas, Nevada. According to the Clark County Nevada Marriage Bureau, both marriage license applicants must be at least 18 years of age;[3] Stodden was 16.[1] However, the bride's mother signed a consent form permitting the marriage. Stodden is Hutchison's third wife.[4] 
So, the mother sold her 16 year old daughter to an old perv actor and they write about it like it's no big deal. She's 17 and jogging in stillettoes. Yeah, she's got a healthy marraige. This is Hollywood!!
Today 2:08 PM PST by Jeff Rayner/Coleman-Rayner
OK, so maybe working up a sweat is a bit of stretch.
But teen bride Courtney Stodden definitely managed to work up a photo op when she stepped out for a jog with her pink-colored pooch on Sunday.
That's because the 17-year-old wife of 51-year-old actor Doug Hutchison opted to forgo running shoes for a pair of high-heeled clear shoes instead.
But Court is no stranger when it comes to sporting stilettos.
Yep. Whether she's sitting on Santa's lap, attending church (yes, church!) or getting a little exercise in like she is here, the gal is certainly proving they can be worn anytime, anywhere.
Not that they necessarily should be, of course.
PHOTOS: Teen Bride Courtney Stodden's Bikini Party
This is what hubby's pushing his bride to do! Is he pimping her out? She's underage for God's sake!!
Read more: http://www.eonline.com/#ixzz1jgKP7k6z